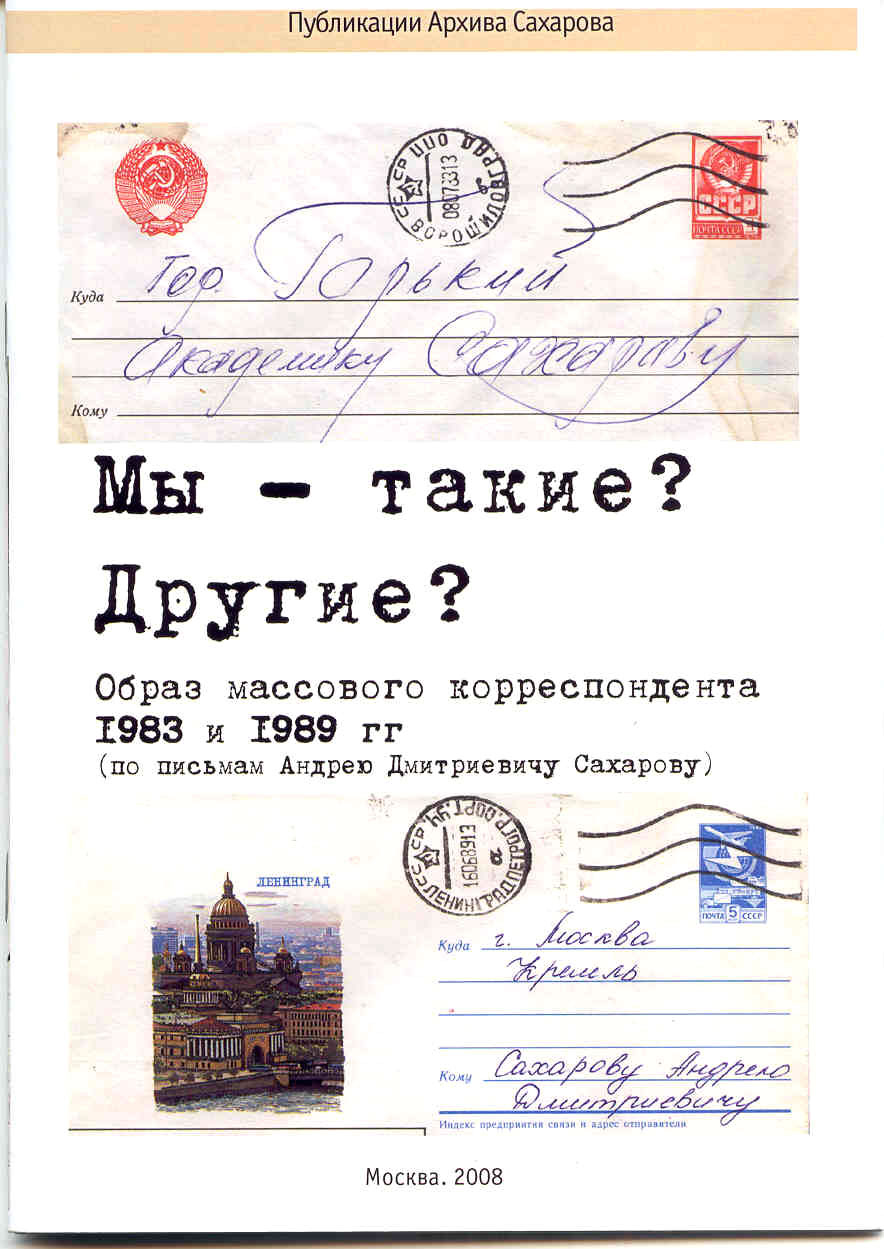 Долгий В. М. Мы – такие? Другие? : Образ массового корреспондента 1983 и 1989 гг. (по письмам Андрею Дмитриевичу Сахарову). – М., 2008. – 32 с. : 2 л. ил. – (Публикации Архива Сахарова). – 50 экз.
The article is the result of analysis about 8000 letters of compatriots to academician A.D.Sakharov.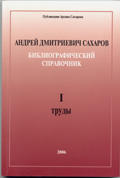 Андрей Дмитриевич Сахаров

:

Библиографический справочник : в 2 ч. Ч. 1 : Труды / Фонд Андрея Сахарова

;

авт.-сост. Е.Н. Савельева. - М. : Права человека, 2006. - 368с. : портр. - (Публикации Архива Сахарова).

The reference book includes two indexes: "Works of A.D.Sakharov" (923 titles) and "Sakharov works publications" (3366 titles). It supplied by auxiliary instrument.
Booklet / The Andrei Sakharov Foundation ; text and comp. by B. Koval ; transl. by E. Yankelevich. – M., 2006. – [26] p. : il. – (Publications of Archive Sakharov). – 300 экз.
The booklet includes information about the Archives (about its status, its staff, its collections and its funds, its scientific references apparatus, its researchers and users, its library), and about the sections of its permanent exhibition dedicated to Academician Andrei D. Sakharov.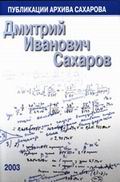 Дмитрий Иванович Сахаров (1889-1961):Биобиблиографический указатель / Фонд Андрея Сахарова; Сост. Е.Н. Савельева; Ред.: Е.Г. Боннэр, Б.Х. Коваль.- М.: Права человека, 2003.- 48 с.: ил.- 300 экз

The issue is devoted to Dmitriy Ivanovich Sakharov - gifted pedagogue-physicist and methodologist Dmitriy Ivanovich Sakhharov, Andrei Sakharov father. The bibliography includes biographical sketch, list of works, literature about him.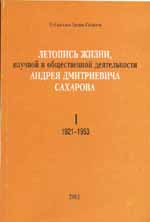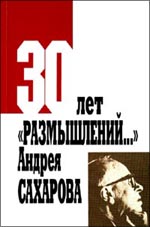 To 30-years of A.D.Sakharov work

"PROGRESS, COEXISTENCE, AND INTELLECTUAL FREEDOM

"

: Материалы конференции / Фонд Андрея Сахарова; Ред. Ю.А. Шиханович.- М.: Права человека, 1998.- 232 с.: ил.- На обл.: 30 лет "Размышлений…" Андрея Сахарова.- 1000 экз.

Collection includes reports and speeches of conference participants devoted 30-years of Sakharov work "Progress, coexistance and intellectual freedom".